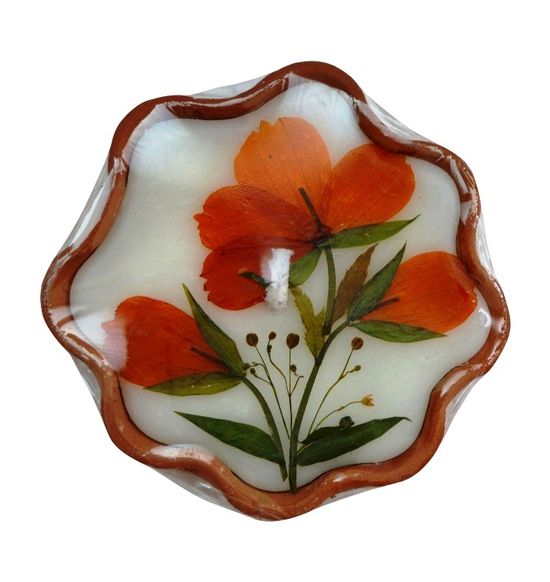 SALEBRATIONS PERFUMED TERRACOTTA CANDLES
This product has a minimum quantity of 10
Do not keep the candles lit in small confined closed space for longer durations.
Do not place the candles near inflammable materials.
Do not place near clothes.
Please keep away from Children.
The Color of the Candles will only be external coating.
The Color coating pattern will not be the same always and could change as these are non standard patterns.
The Dry floral patterns or color or type of Dry floral plant will not be the same always. Depending on the availability of the floral plants the patterns will be made. So please do not expect the same product as in picture.
Fragrance will be mild.
Dimensions of the product might vary slightly because precision cannot be attained in handmade products due to variance in craftsmanship.
The colors of the product might have slight variation from the actual photograph in the website because of the lighting, Photoshop work and other effects during photo shoot.
Industrial finish cannot be expected with handmade products.
Any design or pattern cannot be exactly replicated as in the photographs. Minor deviation will always be there as these are Handmade products.
PRODUCT RETURNS
Returns of goods will be accepted only for manufacturing defects and damages in transit, we offer easy replacements.
Notify us at info@salebrations.co.in and we will provide you with further instructions on reverse pick up.
Replacement shall be considered only if the damage/defect is reported to us with photographic evidence in writing within 3 working days from the receipt of product.
Refund will be provided in case replacement for the same product is not available. We normally process the refund in 3-4 working days from the date of receipt of material at our end.
PRODUCT CANCELLATIONS
We don't accept cancellation because each and every product is mostly manufactured only after we receive orders.
PRODUCT DELIVERY
For the products in stock, order gets processed within 24 hours .The products will be dispatched within 7 working days and will be delivered within 12 - 15 working days depending on the location of the customer.
We ship free of charge to our serviceable locations but In case of COD (Cash on Delivery) extra charges applicable. Any additional charges like entry taxes, octroi are paid by us.
Candles with Random Fragnance will be sent for orders.
Shape : Flower
Material : Wax and Terracotta
Key Features : Non Drip Candles, variety of Color Coating and fragrance, available with dry flowers, longer burning hours.
Package Content : 1 Nos of candle.
Weight ( Approx in Grams ) : 160 grams
Dimension ( Approx in Cm ) : 10 ( Diameter )
Note : Please go through the Handmade policy to avoid discrepancy after purchase.
Write a review
Note:

HTML is not translated!
0